Larse Farms Sweet Darling Sales Inc. global first priorities are worker safety and food safety
Global Good Agricultural Practice (GAP) quality assurance overview Sweet Darling Sales, Inc.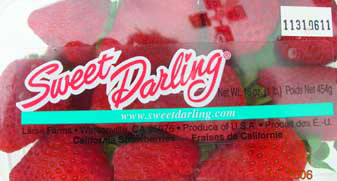 Sweet Darling Sales, Inc. Aptos CA (HQ, sales and acounting)
Sweet Darling Sales, Inc. Castroville CA (post-harvest handling, cooling, order fulfillment, shipping)
Larse Farms, Inc. Watsonville CA (producer)
Planting occurs during October of the year prior to harvest
Harvest, packing, cooling and shipping March through November
Product trace back to source by cross reference of sales line item to farm production lot lines. A package code label is applied to case packages for traceback to packdate, location, workgroup, commodity.
Larse Farms, Inc. is a State of California Certified Producer of fresh strawberries.
Larse Farms Sweet Darling Sales Inc. global first priorities are worker safety and food safety


Training Inspection Checklist Compliance


Standard Operating Procedures



revision no_ 11 2008-09-2008

Purpose:
To prevent danger to public health of food borne pathogens. Good Agricultural Practice achieves quality assurance by adhering to gap standard operating procedures. All people employed by Larse Farms Sweet Darling Sales Inc. will adhere to the standard operating procedures established herein.

Main Concern:
As of March 4 2020, Covid-19 mitigation required implementation of interogatory supervision and employee acknowledgement and response of certain questions pertaining to recent exposures, infections, positive tests, fever and other symtpoms. The reason is to mitigate exposures for prevention of community transmission.

Epidemics resulting from food safety breaches have occured at various times during the past in the US food chain distribution channnels and therefore are of serious concern. Persons have become ill after eating fresh produce contaminated with food borne pathogens causing gastro-intestinal disease, kidney failure, infectious blood transmitted diseases and even death.


The potential or effect on outcome:
Facilities maintained in sanitary condition and operated according to standard operating procedures. Risk of infectious disease contamintaion of stored product Risk of infectious disease blood, fecal and other types of contamination during the production, harvest, packing and post-harvest processes. Risk of infectious disease contamination of already harvested fresh produce commodity. Impingement of pests and their fecal matter

Preventative or Corrective Measures:

Standard Operating Procedures on multiple category groups will be maintained and periodically updated.
Designated GAP Administrator to see through the implementaton of GAP
Supervisor training in SOP's.
Employee food worker sanitation training, checklist inspection and monitoring record of  procedures, employee compliance enforcement of sanitation regulations, employee non-compliance action.
On going monitoring of property and facility boundaries to prevent incursion of contamination.
Water Testing for Contaminants
Daily Employee Sanitation Regulation Inspections
Daily Toilet and Washing Facilities Checklist Inspections
All employees receive a food safety handbook and is trained to immediatly report possible suspected contaminant.